UNA NUEVA PERSPECTIVA SOBRE EL ESCANEO
El escáner sin contacto ScanSnap SV600 ofrece una nueva perspectiva sobre el escaneo de documentos. Escanee fácilmente periódicos, revistas, documentos o libros directamente sin cortarlos ni dañarlos.
SCANSNAP
FUJITSU IMAGE SCANNER SCANSNAP SV600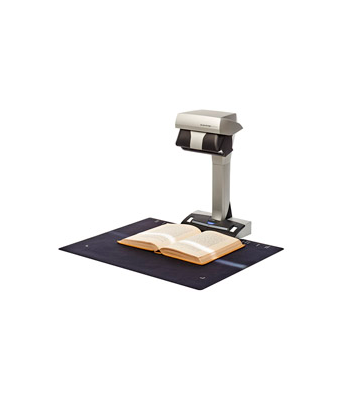 ¡REDEFINIENDO LO QUE PUEDE HACER UN ESCÁNER DE DOCUMENTOS!
El ScanSnap SV600 simplifica el escaneo aéreo, brindando a los usuarios posibilidades ilimitadas.
ESCANEAR:
Libros
Revistas
Documentos delicados
Diseños / notas originales
Cartas de negocios
Documentos de tamaño A3
EL RENDIMIENTO IMPORTA
¡Con solo tocar el botón de encendido, ScanSnap SV600 está listo para escanear en solo 3 segundos! Y con cada pulsación del botón de escaneo, se captura una gran área de escaneo de dimensión A3 en menos de 3 segundos. Combinado con la corrección de imagen inteligente, excelentes resultados con solo presionar un botón.
TECNOLOGÍAS VI (IMÁGENES VERSÁTILES)
Combinando ópticas CCD de alta calidad e iluminación LED avanzada, ScanSnap SV600 utiliza tecnologías de captura avanzadas para maximizar el campo de profundidad y minimizar las irregularidades página tras página.
DETECCIÓN DE MÚLTIPLES DOCUMENTOS
Con una avanzada tecnología de recorte y orientación incorporada, ScanSnap SV600 puede escanear varias tarjetas de visita, fotos, recortes de periódicos y otros documentos a la vez.
LA MEJOR EXPERIENCIA CON SCANSNAP HOME
ScanSnap Home  combina todas sus funciones favoritas en una y es la plataforma definitiva para utilizar datos escaneados de varias formas. Administre, edite y utilice fácilmente datos de documentos, tarjetas de presentación, recibos y fotos con el software. Puede escanear grandes volúmenes de varios tipos de documentos, desde fotografías en color hasta documentos horizontales a doble cara con una serie de funciones inteligentes de procesamiento automático de imágenes.
* Los datos se pueden transferir a ScanSnap Home desde ScanSnap Organizer, ScanSnap Receipt y CardMinder.
Product Name
ScanSnap SV600
General Technical Specifications
Scanner Type
Overhead, Simplex
Scanning Modes
Color, Grayscale, Monochrome, Automatic (Color / Grayscale / Monochrome detection)
Image Sensor
Lens reduction optics / Color CCD x 1
Light Source
(White LED + Lens illumination) x 2
Optical Resolution
285 to 218 dpi (Horizontal scanning)
283 to 152 dpi (Vertical scanning)(1)
Scanning Speed
(A3 landscape)(2)
Auto Mode(3)
3 seconds / page
Normal Mode
3 seconds / page (Color / Grayscale: 150 dpi, Monochrome: 300 dpi)
Better Mode
3 seconds / page (Color / Grayscale: 200 dpi, Monochrome: 400 dpi)
Best Mode
3 seconds / page (Color / Grayscale: 300 dpi, Monochrome: 600 dpi)
Excellent Mode
3 seconds / page (Color / Grayscale: 600 dpi, Monochrome: 1,200 dpi)
Document Size
Maximum: 432 x 300 mm (17.0 x 11.8 in.)
Minimum: 25.4 x 25.4mm (1 x 1 in.)(4)
Document Thickness
30 mm (1.18 in.) or less
How to Start Scanning(5)
Normal scan: Press "Scan" button for every page
Timed interval scan (Timed Mode)
Page Turning Detection
Interface(6)
USB 2.0 / USB 1.1 (Connector Type: Type-B)
Image Processing Function
Deskew by text on document, Auto paper size detection, Auto image rotation, Auto color detection, Book image correction(7), Multiple document detection(8)
Magnification in Vertical Scanning (length)
± 1.5 %
Power Requirement
AC 100 to 240 V, 50 / 60 Hz
Power Consumption
Operating Mode
20 W or less
Sleep Mode
2.6 W or less
Auto Standby (Off) Mode
0.4 W or less
Operation Environment
Temperature
5 to 35 °C (41 to 95 °F)
Relative Humidity
20 to 80 % (Non-condensing)
Dimensions (W x D x H)
210 x 156 x 383 mm (8.27 × 6.14 × 15.08 in.)
Device Weight
3 kg (6.62 lb)
Environmental compliance
ENERGY STAR® / RoHS
Driver
ScanSnap specific driver
· Windows®: Does not support TWAIN/ISIS®
· Mac OS: Does not support TWAIN
Inbox Contents
AC cable, AC adapter, USB cable, Background Pad, Setup DVD-ROM, Nuance® Power PDF Standard / Nuance® PDF Converter for Mac DVD-ROM, Extenders (x 2)
Optical resolution differs due to different scanning single on the same document.
Scanning speed may vary due to the system environment used. The Time is measured between actual start of scanning and finish scanning.
Switch between "Better mode" and "Best mode" depends on the length of the document, A4 (portrait, 200 dpi), A6 size or below (300 dpi).
For documents of thickness over 5 mm, the maximum document size is 400 x 300 mm.
When performing continuous scanning, time is needed for the scanning head to return to its original position.
Compatible with USB 3.0 port but connection will run as USB 2.0 speed.
Automatically correct distortion caused by the curve of an opened book or magazine.
Automatically crop several documents in one scan.
¡CONSULTANOS AHORA DESDE ACÁ!